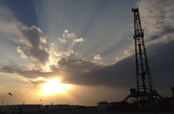 Back
Oryx Petroleum Q3 2020 Financial and Operational Results
13 November 2020
Calgary, Alberta, November 13, 2020
Average gross (100%) oil production re-established at 11,700 bbl/d in the third quarter versus 4,000 bbl/d for the second quarter of 2020; success at and continued focus on minimizing costs
Oryx Petroleum Corporation Limited ("Oryx Petroleum" or the "Corporation") today announces its financial and operational results for the three and nine months ended September 30, 2020. All dollar amounts set forth in this news release are in United States dollars, except where otherwise indicated.
Financial Highlights:
Total revenues of $22.0 million on participating interest sales of 698,900 barrels of oil ("bbl") and an average realised sales price of $26.35/bbl for Q3 2020
38% decrease in revenues versus Q3 2019, attributable to a 43% decrease in realised sales price
The Corporation has received payment in accordance with Production Sharing Contract entitlements for all deliveries into the Kurdistan Oil Export Pipeline through October 2019 and for the months of March through September of 2020
Payments for the months of November 2019, December 2019, January 2020, and February 2020 remain outstanding with the Contractor share totalling $39 million. The Corporation is actively pursuing the outstanding payments but timing of full settlement is undefined. The Corporation continues to expect future monthly sales invoices to be settled in the month following delivery
Operating expenses of $7.1 million ($10.11/bbl) and an Oryx Petroleum Netback[1] of $7.87/bbl for Q3 2020
Profit of $30.1 million ($0.05 per common share) in Q3 2020 versus profit of $18.3 million in Q3 2019 ($0.03 per common share)
The increase in profit in Q3 2020 compared to Q3 2019 is primarily attributable to a $26.9 million gain recorded on the settlement of the loan facility with AOG International Holdings Limited partially offset by a $7 million decrease in net revenues and a reduction of $7.5 million in the non-cash gain resulting from the decrease in the fair value of the contingent consideration obligation
Net cash generated by operating activities was $3.6 million in Q3 2020 versus $9.7 million in Q3 2019, comprised of Operating Funds Flow[2] of $3.7 million less a $0.1 million increase in non-cash working capital
Net cash used in investing activities during Q3 2020 was $3.3 million including payments related to facilities costs and drilling preparations in the Hawler license area
$11.0 million of cash and cash equivalents as of September 30, 2020
[1] Oryx Petroleum Netback is a non-IFRS measure. See the table below for a definition of and other information related to the term.
[2] Operating Funds Flow is a non-IFRS measure. See the table below for a definition of and other information related to the term.
Operations Update:
Average gross (100%) oil production of 11,700 bbl/d (participating interest 7,600 bbl/d) in Q3 2020
Average gross (100%) oil production of 13,300 bbl/d (participating interest 8,700 bbl/d) for October 2020
Operations at the Banan field in the Hawler license area restarted in July 2020 following improvement in oil price
In October 2020, an acid stimulation treatment was performed on the Demir Dagh-3 horizontal well completed in the Cretaceous reservoir. The well is currently being operated intermittently to determine the maximum sustained rate at which it can be produced without promoting excessive production of associated gas. The well may be recompleted in the future in order to obtain more effective isolation of the oil producing completion from the associated gas cap
Renovation of a previously constructed well pad in the Zey Gawra field has been completed in preparation for the spudding of a new well targeting the Tertiary reservoir before year end
The worldwide outbreak of the COVID-19 virus, including within Iraq, has not caused any significant disruption of production operations. The Corporation is continuing to take precautions to protect its employees and contractors but does not expect that the ongoing virus outbreak will restrict operations
Liquidity Outlook:
The Corporation expects cash on hand as of September 30, 2020, cash receipts from net revenues from export sales exclusively through the Kurdistan Oil Export Pipeline, and proceeds from the short-term credit facility provided by Zeg Oil and Gas Limited ("ZOG") will allow it to fund its committed capital expenditure and forecasted operating and administrative costs through the end of 2021 and to reduce obligations currently due to suppliers
In the prevailing oil price environment, contingent consideration obligations are anticipated not to become payable before 2022
CEO's Comment
Commenting today, Oryx Petroleum's Chief Executive Officer, Vance Querio, stated:
"During the third quarter OP Hawler Kurdistan Limited continued to operate safely, without any recordable incidents, notwithstanding restrictions imposed due to the COVID-19 outbreak. We are very fortunate that although we have had several employees test positive for COVID-19 during the quarter, none have suffered from serious symptoms and our operations have been unaffected by the occasional absence of a quarantined employee.
In addition to conducting our routine production operations, we have been busy during this past quarter planning our fourth quarter rig activity and resurrecting and renewing our portfolio of service contracts so that we will be able to work unimpeded in the new year. We have restored the normal rotation of most of our drilling, HSE and security consultants and are planning to move a rig into the Banan field in the coming days to replace a leased jet pump in the Banan-4 well with a more cost effective progressive cavity pump that we have purchased.
Following the pump replacement workover in the Banan field, we look forward to getting a rig back in the Zey Gawra field to drill our first well into the Tertiary reservoir there before continuing with additional development and appraisal activities.
Despite the current challenging oil price environment, which we expect will prevail for the duration of 2021, we intend to conduct a capital program in 2021 in order to increase our production capacity and further reduce our operating costs."
20201113-Oryx_Petroleum_Press_Release_Q3_Results_2020-final-.pdf