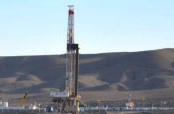 Back
Oryx Petroleum Corporation Limited Files Preliminary Base PREP Prospectus for Initial Public Offering
14 March 2013
Oryx Petroleum Corporation Limited ("Oryx Petroleum") today filed a preliminary base PREP
prospectus with the securities regulatory authorities in each of provinces of Canada, other than
Quebec, in connection with a proposed initial public offering of common shares. A copy of this
preliminary base PREP prospectus will be available on SEDAR (www.sedar.com) and Oryx Petroleum's website (www.oryxpetroleum.com).
The underwriting syndicate for the offering is led by RBC Capital Markets, Barclays Capital
Canada Inc. and Merrill Lynch Canada Inc. as joint bookrunners.
Download the press release:
Press_Release_Oryx_Petroleum_re_Preliminary_Prospectus_(1).pdf