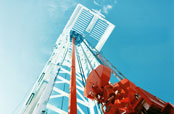 Back
Oryx Petroleum files prospectus for IPO
15 March 2013
Today Oryx Petroleum filed a preliminary prospectus with the securities authorities in Canada
The filing is the first step in the process of the company offering its shares to investors, with the intention to become a public company listed on the Toronto Stock Exchange (this is known as an Initial Public Offering or IPO).
We do not know the exact duration of the process, but will inform you when it is complete. AOG will remain a majority shareholder of Oryx Petroleum and continue to own over 50% of the company's outstanding shares.
You can access the preliminary prospectus under the Investors' section.
The press release announcing the filing can be read here:
Press_Release_Oryx_Petroleum_re_Preliminary_Prospectus.pdf